Founded in 1997 in Valence, France, Amplitude Surgical is a leading French player on the global surgical technology market for lower-limb orthopedics. Amplitude Surgical develops and markets high-end products for orthopedic surgery covering the main disorders affecting the hip, knee and extremities, and notably foot and ankle surgery.



Continual profitable growth since its creation in 1997
Amplitude Surgical recorded revenue of 100 million euros over its financial year to June 30, 2018, with average annual growth over 15% since 2005 and with a strong EBITDA margin of 18 millions euros.
The Group's revenue is mainly generated by its activity in France. However, international activity accounts for a fast-growing proportion of revenue reaching 37% of total revenue.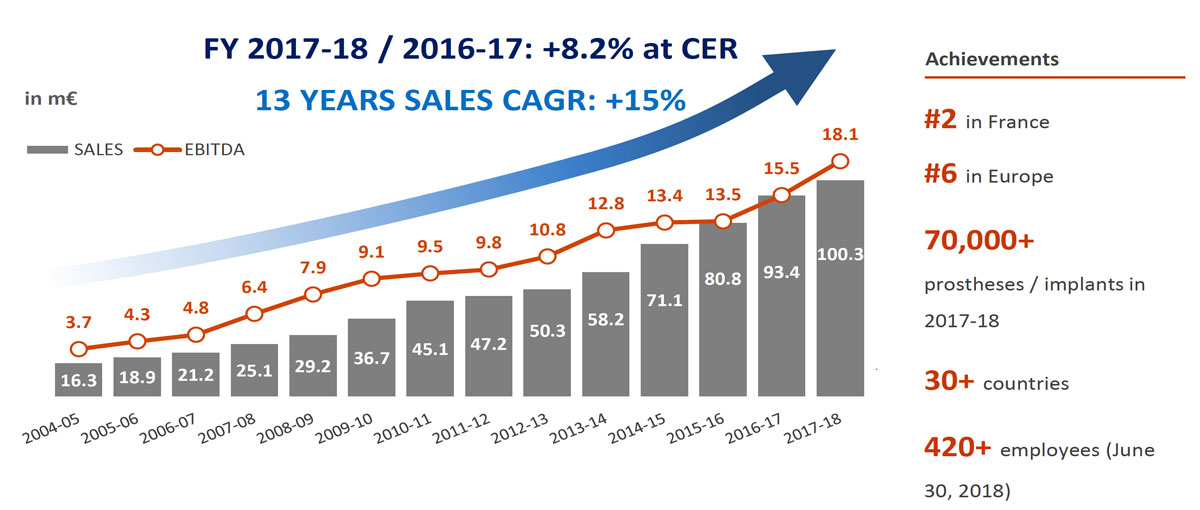 A comprehensive range of high-end products covering orthopedic pathologies of the lower limbs, combined with a high quality of service
Amplitude Surgical develops and markets a comprehensive range of high-end orthopedic products for primary and revision surgery aimed at treating pathologies of the hip, knee and lower extremities, notably for foot and ankle surgery. The Group also provides innovative services that add significant value to its product range, such as the AMPLIVISION® Computer Assisted Surgery system, the i.M.A.G.E.® single-use made-to-measure instrument system and the E.T.O.I.L.E® technology platform for anterior approaches resulting in less-invasive surgery.

Strong innovation ability
Amplitude Surgical's development strategy is notably based on its ability to innovate, the result of close collaboration with world-reputed orthopedic surgeons. These innovations are developed in order to best meet the needs of patients, surgeons and healthcare facilities: increase fitting accuracy, enable a less-invasive surgical approach, reduce surgery time and optimize costs, while reducing patient rehabilitation time and optimizing post-operative patient safety. These services are helping the Group attract and retain numerous surgeons and healthcare facilities in France and abroad.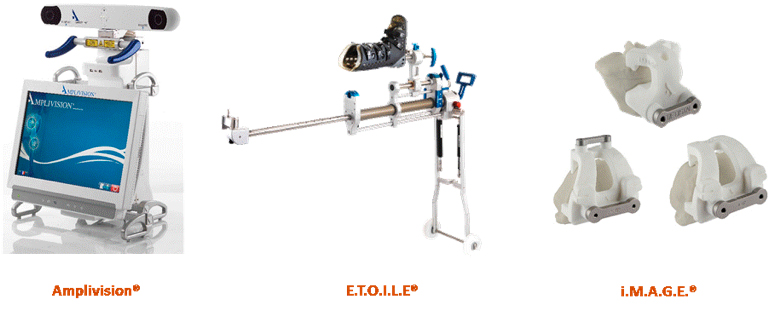 Successful internationalization
With a presence in more than 30 countries, Amplitude Surgical has generated buoyant export growth backed by a sales organization consisting of its subsidiaries and a network of exclusive distributors and agents.
The operational success recorded when its Australian and Brazilian subsidiaries were launched have given the Group a firm footing that will enable it to accelerate its international expansion by replicating its model in two key orthopedic prothesis markets: the United States and Japan, receiving a very favorable welcome with very promising first sales.