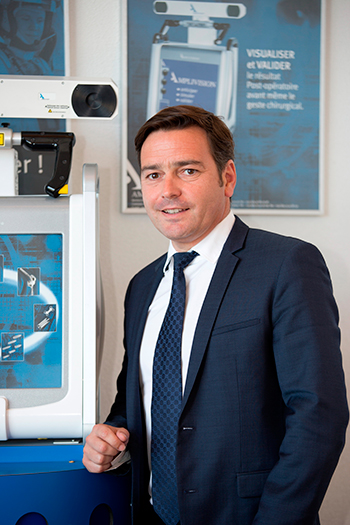 Dear Sir/Madam,
Amplitude Surgical, which was founded in 1997, is a leading French player on the global surgical technology market for lower-limb orthopedics. Today, our products are used in over 400 healthcare facilities in France, and we have sold over 180,000 implants and prostheses worldwide in the past three years, including more than 70,000 in FY 2018 alone.
We are pressing ahead with our strategy of expansion predicated on our cutting-edge R&D, robust quality system, substantial investments and workforce of close to 420 highly motivated employees. Our goal is to tap into new markets while bringing to market innovative new devices and equipment benefiting practitioners and their patients.
In FY 2017-18, our sales grew 8.2% to move above the €100 million mark, while our EBITDA margin was close to 18%. Those figures are a testament to our success, just three years on from our IPO.
Keeping alive the unique French expertise in high-end orthopedic implant design, we have now established a base from which we will be able to extend our leadership in France and accelerate the pace of our international expansion. With our presence in more than 35 countries, Amplitude Surgical is achieving strong international growth supported by a sales organization built around our subsidiaries and our network of agents and exclusive distributors. We are replicating the business model we have tried and tested in France at our subsidiaries in Australia and Brazil. And building on this success, we are now rolling out this model in the United States, the world's largest market.
Olivier Jallabert
Chief Executive Officer and Founder